Here's a guide for live streaming your TidalCycles session to YouTube.
This is the set-up I use so it's specific to Mac with SuperDirt and Atom. There a load of ways to achieve this so it would be great to see the guide expand.
Requirements
Instructions
Soundflowerbed
Launch SoundFlowerbed
A status icon will appear in the top menu strip. Click it and tick the 'Built-in output' option under Soundflower (2ch)
Also on the top menu strip, click the speaker icon and from the output device options select Soundflower (2ch)
SuperCollider
Launch SuperCollider
Run the following command in SuperCollider by pasting it in the input window and hitting Shift + return anywhere on the line:
Server.default.options.outDevice_("Soundflower (2ch)")

Hit Cmd + Shift + L to recompile the class library
Launch SuperDirt with:
SuperDirt.start
In the post window you should see something like:
"Built-in Microph" Input Device
 Streams: 1
 0 channels 2

"Soundflower (2ch)" Output Device
 Streams: 1
 0 channels 2

This confirms that SuperCollider will output to SoundFlowerbed, which will act as the audio input to OBS for the stream.
Atom / other text editor
Launch Atom and save a new .tidal file
Exit full screen if that's how the application is currently set. This is to overcome an issue with OBS detecting full screen application windows.
It's also worth increasing your editor font size a few points so it's clear in the stream.
OBS
Launch OBS
In the Sources menu click the + sign and select Window Capture from the list of available options.

In the next screen select the application and file name combination that matches your text editor.
Switch back to your text editor and set it to full screen mode. Then head back to OBS.
You should see a stream of your text editor being rendered in OBS.

Click the  + sign again to add your audio stream. Select audio output capture and select Soundflower.
YouTube
Log into YouTube with an account you want to use to broadcast your performance to the world.
Click your user avatar in the top-right corner of the screen and select Creator Studio.

From the left-hand panel select Live streaming > Stream now
Enter basic information for your stream.
Under the encoder set-up section at the bottom, click Reveal to display your encoder key and copy it. This will be used to authenticate your stream with YouTube.
Back to OBS
Enter Settings and select Stream from the left-hand panel.

Apply these settings:Stream type: Streaming Services
Service: YouTube / YouTube Gaming
Server: Primary YouTube ingest server
Stream Key: paste the key you were given on YouTube
OBS Output Stream settings
You may wish to experiment with different settings for your stream (the bitrate in particular), I found these work for a decent resolution and audio quality, without encountering buffering issues.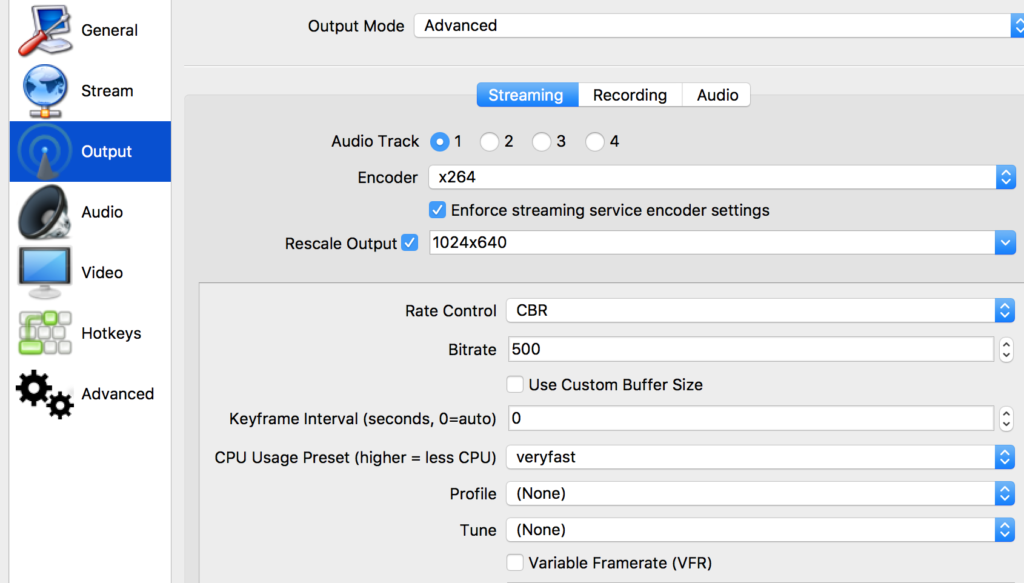 Encoder: x264
Rescale output: 1024 x 640
Rate control:  CBR
Bitrate: 500
Keyframe interval: 0
CPU usage preset: very fast
Profile: none
Tune: none
Start streaming
You're good to go.
Click Start Streaming in OBS. In a few seconds the steam will be live on YouTube.
When you've finished click Stop Streaming and YouTube will create a recording in your channel. You can choose whether to share, edit, delete, and so on.
And finally, here's one I made earlier.